You'll wear your wedding band for decades, so it should have a style you like and should be appropriate for your lifestyle. This guide will help you get
started in your wedding band search, so you can choose a fitting symbol for your new life together.
Platinum
Our most popular choice for wedding and engagement rings due to its hardness, rarity and naturally white sheen that will never fade or change colour. Our platinum rings are 95% pure, which means they are heavy, strong and naturally hypo-allergenic. The best choice if you have the budget for a prestigious ring that will last you a lifetime.
Yellow Gold
Yellow gold is the traditional choice for wedding rings. We offer 14K, 18K and 22K yellow gold rings.
White Gold
White gold jewelry uses pure gold alloyed with other white metals such as palladium and silver, to produce a beautiful polish and shine. As a standard, white gold rings are plated with rhodium to give its brilliant white luster. Rhodium plating is hypoallergenic and helps to protect the white gold. Although strong, rhodium wears away over time. Re-plating is a simple process that can be done to restore whiteness at any time. We offer 14K and 18K white gold rings.
Rose Gold
Also known as pink gold or red gold, rose gold adds a touch of romance to your jewelry; if you want a ring that is traditional and distinguished then rose gold could be the metal for you. We offer 14K and 18K rose gold rings.
Silver
It is one of the most inexpensive precious metals. It is important to note however that silver will tarnish and scratch more easily than other metals.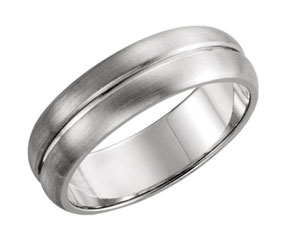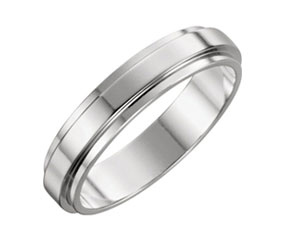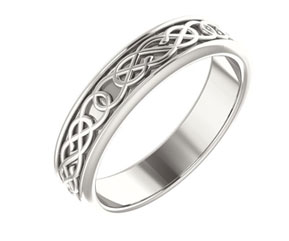 Titanium
Titanium is an ideal metal for making jewelry due to its properties. It is incredibly strong and durable in comparison to other metals, such as gold. It is distinguished by its darker color and lighter weight. Another fantastic attribute of titanium is that it is hypo-allergenic, making it perfect for those with sensitivities to wearing jewelry.
Tungsten
Tungsten Carbide is exceptionally strong, scratch-resistant and hypo-allergenic. It does not tarnish and is substantially heavier in weight when compared to other metals. It is important to note, that with hardness comes brittleness. If a Tungsten ring is dropped or severely knocked on a hard surface, it can potentially fracture the ring.
Stainless Steel
This metal is good for people with a small budget. Stainless steel is relatively strong and durable so ideal for fashion rings and wedding rings. It is hypo-allergenic and scratch resistant.
Ceramic
Ceramic rings are very cost-effective and durable rings. The material used in making contemporary ceramic jewellery is called titanium carbide (TiC), more commonly known as high-tech ceramic. One of ceramic's best features is its shine; when polished, it has a beautiful smooth, glossy finish.
Cobalt Chrome
Cobalt chrome, also known as cobalt, is a very durable metal that is equally as white as platinum and white gold. The cobalt in cobalt rings is extremely hypoallergenic, and it will not react with your skin.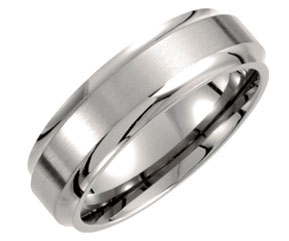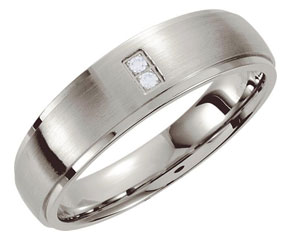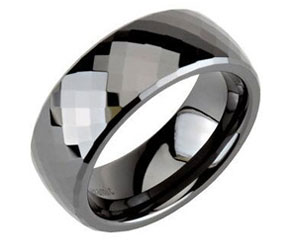 There is no real way to determine which band size you're going to want until you've tried rings on. It's one of the factors you need to consider as it can ultimately influence how comfortable a ring is on your finger. The most popular width for a men's wedding band is 6mm.
Comfort-Fit
Comfort fit wedding bands are crafted using extra metal to make the inside of the band slightly domed, resulting in a very comfortable fit. Available in a light comfort-fit, comfort-fit, heavy comfort-fit. Comfort-fit bands are especially recommended for men, because they are easier to squeeze over a large knuckle when putting your ring on or taking it off, and it's much more comfortable to wear once it's on.
Flat
Standard fit bands have a straight interior, and do not have the extra dome of metal provided by comfort fit wedding bands.
Classic wedding rings are often plain bands, carved bands often have carving on them and modern styles are more varied and can include diamond wedding rings and special finishes.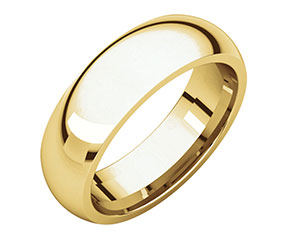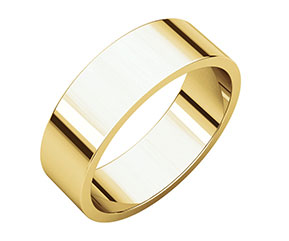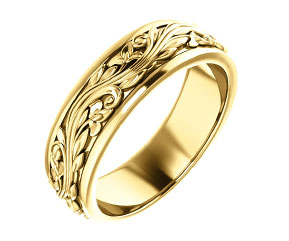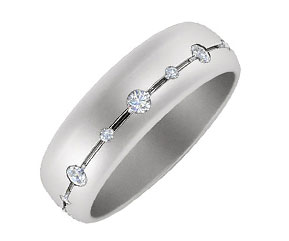 High Polish is the most traditional choice and describes metal with a reflective finish.
Satin is a less reflective finish with an understated, modern feel.
Florentine is a cross-hatch pattern giving a very contemporary look to the band.
Brushed finish is similar to a satin finish. Both, the satin finish and the brush finish are not shiny. The difference is that a brushed finish has a texture to it.
Hammered looks as if a tiny hammer has pounded the metal to create a textured effect. They are popular with men who want a unique, eye-catching look.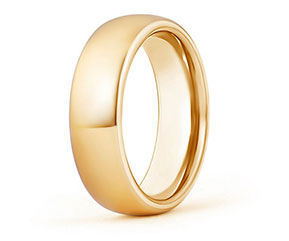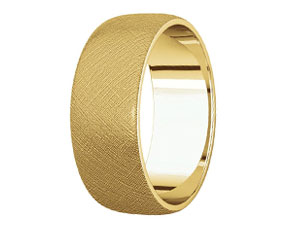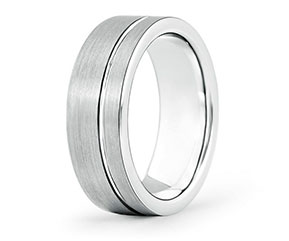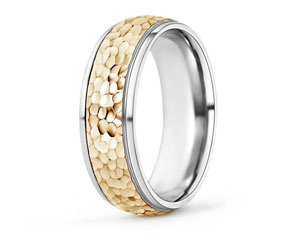 GRI offers a Free Ring Engraving service which is a perfect way to personalize these special rings.
We typically deliver our men's wedding bands about two weeks from the time your order is placed. It's always wise to leave a little extra time in the event that you'd like a final size adjustment before the big day.
Many rings – such as precious metals and exotic inlays are available in 1/4 sizes as well as full and 1/2 sizes. These bands can be sized in-house. The contemporary metal collection comes only in ½ sizes and we are unable to size them at the office. Contemporary metal collection have a Lifetime warranty with the manufacturer for sizing. Shipping is not included.